Error: Access Token is not valid or has expired. Feed will not update.
This error message is only visible to WordPress admins
There's an issue with the Instagram Access Token that you are using. Please obtain a new Access Token on the plugin's Settings page.
If you continue to have an issue with your Access Token then please see this FAQ for more information.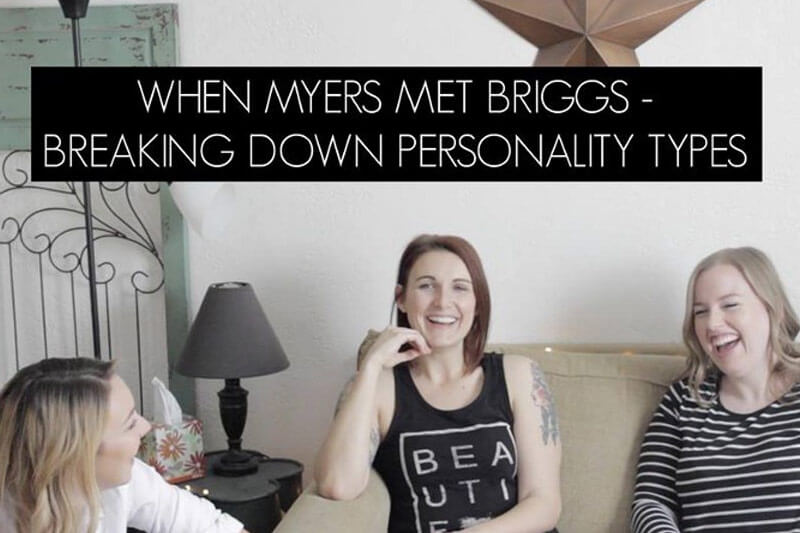 Best friends, ESFP Meredith (The Performer) and ENTP Kaila (The Debater) of When Myers Met Briggs
Digging into a personality podcast through the ears of Javi the Javelina
At Javelina, we like to dig into podcasts. So this week, I plugged in my headphones and sat at my desk, tuning into the very first episode of When Myers Met Briggs. Only a few minutes of listening went by when I began to worry what I got myself into. Five minutes in, and co-host Meredith invited listeners to tune out if they didn't like the podcast's co-hosts or disagreed with their discussion. (Right?) I had committed to listening to the entire series back in November 2015, but now I wasn't sure I could make it past the first episode. I began to scroll through all 39 episodes in hopes that one would catch my eye and compel me to continue. Judging from where we are now, I think you can guess my decision.
When Myers Met Briggs is a podcast series hosted by two spunky, extroverted MBTI (Myers-Briggs Type Indicator) enthusiasts. Best friends, ENTP Kaila (The Debater) and ESFP Meredith (The Performer), talk all things typing — Personality Typing, that is. Each episode consists of the good, the bad or the funny of Myers-Briggs. The dynamic duo live together in Downtown Phoenix with their cat, Maeby. Something about this proximity makes what they have to share all the more compelling.
A few days before tuning in, I took the 16Personalities test at work. While intriguing and ultimately very insightful, I didn't think much about the assortment of random letters after returning home. Even less so did I think it was remotely possible to talk about personality typing as religiously as Kaila and Meredith did. Each week, they enlighten listeners for 30 minutes to over an hour on just how useful this tool can be in our lives.
(DISCLAIMER: Despite how deeply they both think and discuss Myers-Briggs, they claim in Episode 25 that they're "not actually obsessed with it." Whatever you say, ladies. I guess this is something you will have to decide for yourselves.)
If you aren't yet fluent in MBTI language, don't fear. Kaila and Meredith start out their series with a handful of expository episodes to dissect what the theory is, what the four categories and the 16 types are, and how to discover your type. If you're anything like me, then combinations don't mean much of anything unless we're talking Chinese food. I use this site as a reference so I don't get lost with the 16 combinations of letters mentioned frequently throughout the show. If you're really looking for easy entertainment to understand the difference, the co-hosts dedicate an entire episode (Episode 36) to impersonating the stereotypes of each type.
While personality typing can seem overwhelming, the theory is really quite simple: individuals are categorized by the way they use their perception and judgment to make decisions. The podcast narrows the complex system down to 4 questions:
How do you get your energy?
How do you process information from the world?
How do you make decisions?
How do you go about approaching the world?
Tune into Episode 2 if you need help discovering your own type. While listening, you might find out if you're among the coolest personality types — the hottest, most productive or those with the best house. Once the expository episodes are out of the way and listeners are more familiar with the Myers-Briggs theory, Kaila and Meredith move on to the nitty-gritty.
In no specific order, episodes are dedicated to listener questions, celebrity typing, interviews with local personalities and entertaining pet theories.
Wondering how your personality typing relates to your relationship compatibility? tune into Episodes 13 and 31. This is a common question among podcast listeners. Curious what personality type Bowe Bergdahl, David Bowie or any of the Parks & Rec characters are? Tune into Episodes 15, 20 and 22, respectively. Having lost too much sleep over the Bowe Bergdahl ordeal as a dedicated Serial fan, I was beyond thrilled to not only find somebody else had given some thought about his personality, but that I had typed him correctly. (It was my first!)
Kaila and Meredith have interviewed nearly every personality type. (ISTJ, ESFJ and ESTP where you at?!) Of the 16 different personalities, these are the only remaining left to be interviewed on the podcast. I came across an episode of an interview with someone scarily similar to me: both ISFJs, same upbringing (location, family situation, religion and feminist awakening) and now dealing with almost identical challenges. If you give their feed a look, chances are you'll find somebody almost EXACTLY like you too.
For the curious and dedicated listeners, the co-hosts discuss other elements related to personality typing such as functional stacks, the Enneagram, and the evil of socionics, which can be found in Episodes 8, 25 and 28, respectively.
While introducing the Myers-Briggs system is a large part of the podcast, the main focus of When Myers Met Briggs is to give listeners insight on how this seemingly complex theory can be a simple, reliable tool for self-help. It can allow us to amplify our own strengths, improve our weaknesses and understand the differences shared with those we interact with. Likewise, it can enable us to empathize and overcome when we experience altercations. It is important to always keep in mind that personality typing is only a theory, and should never be accepted as fact or used to define the limits of who we are. Additionally, it should not be used as a game, because when used incorrectly it can be hurtful.
If you decide that When Myers Met Briggs is the podcast for you, then I strongly suggest you also begin with the first episode. As an introvert myself, I can't help but find any onset of extroversion extremely annoying at first. It takes me some time to get used to. And as I write this and relisten to the very first episode, I find myself in a very different place than I was before. I've grown to adore their spunky personalities and unscripted discussion — and I think that is ultimately Kaila and Meredith's goal of the podcast. While they aren't scientists or experts, which they make clear several times, they sure know how to sell the importance of understanding what makes people tick as a way of overcoming challenges. Well done, ladies.
What's your personality type? Share it with us in the comments below or tweet us at @JavelinaCo.
Michelle aims to embrace every opportunity to bring about positive social change by being active in the community and fostering compassion and self-awareness. Read more posts by Michelle.
Across every platform. On every issue. Make Javelina part of your team.
Ready to bring your brand experience to life? Let's chat!