Lessons learned from Tucson's historic mayoral primary race 
In the last few years, we've seen a dramatic shift in political campaigns –  candidates and their policy priorities are diversifying, as are the tactics being employed in races across the nation. In Arizona, there's no better example than City Regina Romero's successful campaign for Mayor of Tucson. Javelina was proud to be a part of the team that helped elect Romero and to debut our digital program – which produced astounding results and  insight into reaching and rallying underrepresented communities in the voting booth.
Romero's Historic Victory
On December 2nd 2019, Regina Romero was sworn in as Mayor of Tucson, Arizona. Romero is the first Latina Mayor of Tucson and the only Latina to lead any of America's fifty largest cities.
The road to Mayor Romero's November victory started with a record-setting Democratic primary. The race was expected to be extremely close. Not only did Romero win, but she won over 50% of the vote in a 3-way race, with a 13-point margin over the next vote getter, former State Senator and 2018 gubernatorial candidate, Steve Farley.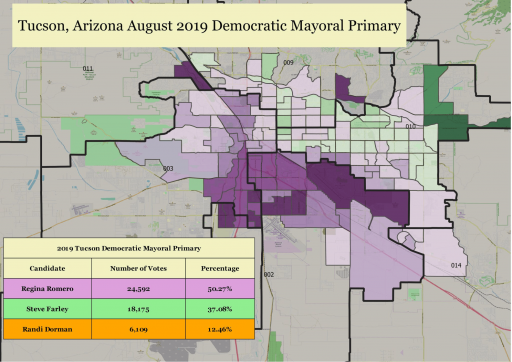 Map shows the top vote getter by precinct. The darker the shading, the higher % of the vote the winning candidate received in that precinct. 
Romero's victory was fueled by high turnout and strong support among Tucson's Latino community, namely legislative districts 2 and 3. Additionally, she ran mostly even with Farley in districts 9 (which he represented in the legislature) and 10.
The Movement that Elected Romero
The movement that elected Romero brought together a variety of groups and organizations. Chief among them was Chispa AZ PAC, a program of the League of Conservation Voters, which is growing latino voices, political power, and civic engagement for a cleaner future in Arizona. Chispa AZ PAC oversaw the targeted canvassing, direct mail, and digital efforts that not only reached the voters that reliably participate in off-year elections, but helped activate Latinos who were less likely to vote.
Javelina was proud to join forces with Chispa AZ PAC to craft its target universes and implement its direct mail and digital programs. Analysis of the election results shows how effective these persuasion and turnout programs were. Comparing turnout from the August primary election to the November general, one can see that in heavily-Latino areas like Tucson City Council wards 1 and 5, primary turnout almost matched general election turnout. 
By almost every metric, Latinos made a larger impact on the 2019 mayoral primary than in any mayoral primary in modern Tucson history. While Tucson mayoral primary turnout overall increased 65% from 2015 to 2019, Latino turnout increased 114%. As a share of the electorate, Latinos made up 23% of the electorate in the 2019 primary, compared to 20% in 2015 – a 15% increase in vote share.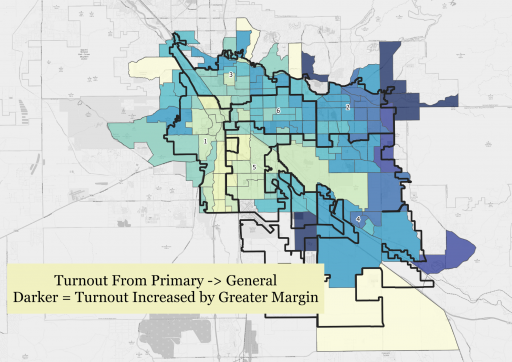 The impact of digital programs
Our digital voter mobilization program had particularly strong effects on Latino turnout. Our Latino GOTV universe was composed of 9,376 voters who were regular even-year federal election voters but had never voted in a mayoral primary. This was a group unlikely to turnout in this election, but likely to support Romero if they did. 
To reach this universe digitally, we matched individuals from the voter file with Javelina's database of 262 million IP addresses which are authenticated via ISP (Internet Service Providers such as Cox & CenturyLink) cookie matching. Within the surge universe, we were able to match 6,657 voters for digital advertising (71% of the total universe). The remaining 2,719 voters formed a control group that received our mail and canvassing program but did not receive our digital program.
The voters we were able to digitally match received at least three to four pass-throughs at the door and 2 mailers in addition to a high-intensity digital campaign. On average, each of the nearly 6,700 voters saw our digital ads around 33 times over the course of 5 weeks. The ads ranged from 3 dimensional GIFs to static display images to pre-roll videos. Our control group did not receive digital ads, but experienced the full direct mail and canvassing programs.
Overall, the Latino voters in our mobilization list turned out at a rate of 25.5%. Of the voters that did not receive digital communications, they turned out at a rate of 24.3%, while the voters that received our digital communications turned out at a rate of 26.1%. The group receiving our digital ads therefore had 7.5% higher turnout than our control group.  
Takeaways
This case study exemplifies the power of digital campaigns to activate underrepresented communities in off-cycle elections. It's also testament to the power of layering different modes of communication in order to reach one group of voters. This is a great example of a burgeoning theory: that often, resources are better spent reaching the same voters through a new medium, rather than repeatedly contacting them in the same way over and over again.  
Mayor Regina Romero now leads Arizona's second largest city and is on the forefront of the progressive movement in Southern Arizona. Analytics and new digital tactics are the modern path to empowering underrepresented communities. In 2020, expect these patterns to continue.