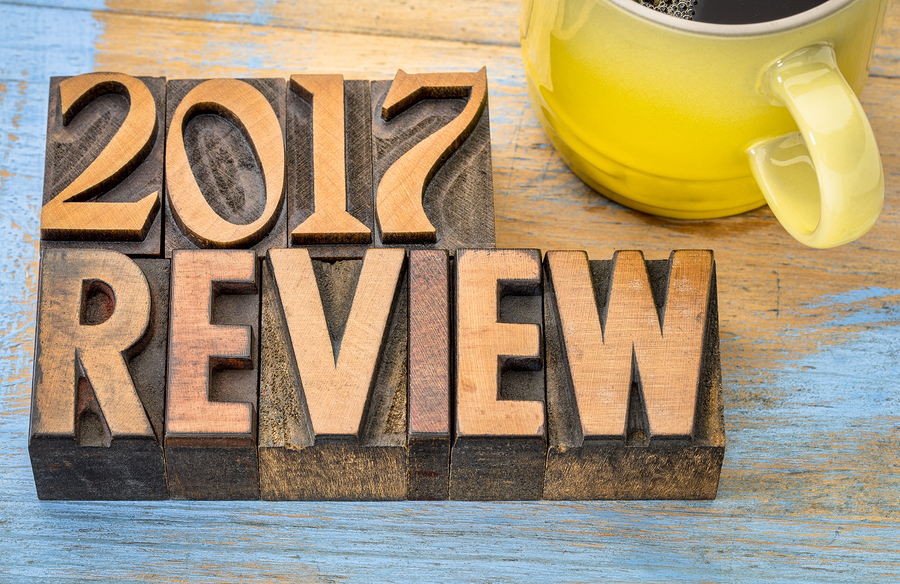 You've certainly been one for the history books, 2017.  You gave us envelope-gate at the Oscars, Kendall Jenner's weird Pepsi commercial, Sean Spicer, white supremacists marching with tiki torches, and the Chainsmokers won a Grammy because nothing matters anymore. I think we can all agree things got a little weird and no one could have anticipated what this year had in store for us.
While we can't always predict what exactly is coming our way, we can always count on one constant: Change. Year after year, things will always change. We can't always control it, but we control how we react to it – whether it's a supportive or resistant reaction to good or bad change.
The Javelina Team took some time to reflect on some major changes that happened this past year and we wanted to share them with you. It's a mix of good and bad change. But you'll notice sometimes amazing moments and movements are borne out of the bad.
First, a moment for our honorable mentions:
Danica Roem was elected to the Virginia House of Representatives, becoming the first openly transgender person elected to any state house seat in America

It's

finally

winter in Westeros. Come on, it took them like seven years. More widely anticipated than a royal wedding, Winter has fallen in Game of Thrones land, leading 

brands to capitalize with funny promotions and puns

.

Speaking of things that should have happened a long time ago, Twitter increased the number of characters-per-tweet to 280 this year. Exciting that we have more room to express our thoughts, not so exciting that Trump does too.

Anything Beyonce does changes lives. Whether it was being named

the highest paid woman in music

this year,

creating Thiccsgiving

, or announcing being pregnant with twins via Instagram on February 1 (becoming the most-liked Instagram post

of all time)

Queen Bey wins the year again. Can't get enough of Beyonce? Check out her

top moments of 2017

.  
Top 5 Change Moments:
5. Colin Kaepernick took a knee and started a resistance
Okay, so this one technically started last year in August – but 2017 is when Colin Kaepernick's kneeling really began taking hold in the NFL. In 2016, Kaepernick, then-quarterback of the San Francisco 49ers, began kneeling during the national anthem prior to football games. He wanted to draw attention to the police brutality that people of color endure, and give a voice to those who don't have one.
Other teammates and players throughout the league began joining Kaepernick in protest but it never reached more than a handful or a dozen players protesting at a time. However, in September of 2017, President Trump made some disparaging remarks regarding players who kneeled during the national anthem and suggested that they should be fired. Players and teams were in disbelief and upset by Trump's remarks and nearly 200 players kneeled in the following days.
While the protest has drawn heavy criticism from many – it's a protest that has helped sustain a conversation our nation needs to have.
4. Global warming
Ever since the new administration has taken over the federal government, "global warming" and "climate change" are being removed from the work of federal agencies and scientists have had to rebrand their work. Which is concerning because of the kind of year we've had.
It's been a tough year for a lot of reasons, but especially because of the amount and intensity of natural disasters our country has been put through. Hurricanes devastated Houston, Puerto Rico, and Florida. Now California is also battling multiple extreme wildfires with no signs of slowing down. We've seen some of the deadliest and more destructive disasters this year than we've had in a decade.
Certainly not the good sort of change we want, but definitely the kind of change we can push back against.
3. Trump became President
You knew this was coming. This certainly hasn't brought us a lot of good change, but it's definitely opening people's eyes and moving folks to action. The President's lack of leadership, vision, empathy, and his dangerous policies have spurred others to step up and be the change they want to see in the world. People are organizing, running for office, volunteering, donating, and doing whatever they can to resist Trump's agenda. Which leads us to number two…
2. The Women's March
The day after Trump's inauguration millions of people gathered in solidarity to protest the incoming administration. Women all over the world and from all walks of life gathered and made their voice heard. Between 3 to 5 million women marched in the United States alone. The march was an impressive show of strength and is estimated to be one of the largest single-day demonstrations in U.S. history. It was a powerful moment that continues to give us hope that there's some good change headed our way in 2018.
1. #MeToo Movement
When the story broke about the perpetual predatory behavior and sexual harassment by Harvey Weinstein, no one anticipated the movement that followed. When other stories of men in Hollywood began emerging, the expectation was that the attention on sexual harassment would quiet within a week or two and then the news cycle would change. But the allegations are still coming strong for more than three months now.  
One by one, influential and powerful men – Matt Lauer, Kevin Spacey, Charlie Rose and Louis CK – were shown the door. People have taken to social media and shared their own stories through the #MeToo hashtag which has confirmed to people that they aren't alone, and opened the eyes of others who are now seeing how prevalent this issue is.
While there's a long way to go, we're finally having a really important conversation. Sometimes good change isn't always comfortable, but we're moving in the right direction.
The next year ahead of us is a big deal. It's a pivotal time and there's going to be tons of opportunities to make a difference. Change isn't going anywhere. So let's work together to make sure it's the good kind.
Across every platform. On every issue. Make Javelina part of your team.
Ready to bring your brand experience to life? Let's chat!
Javelina Consulting LLC 1026 E Keim Dr
Phoenix AZ 85014