Standing On Your Own Story for the Greater Good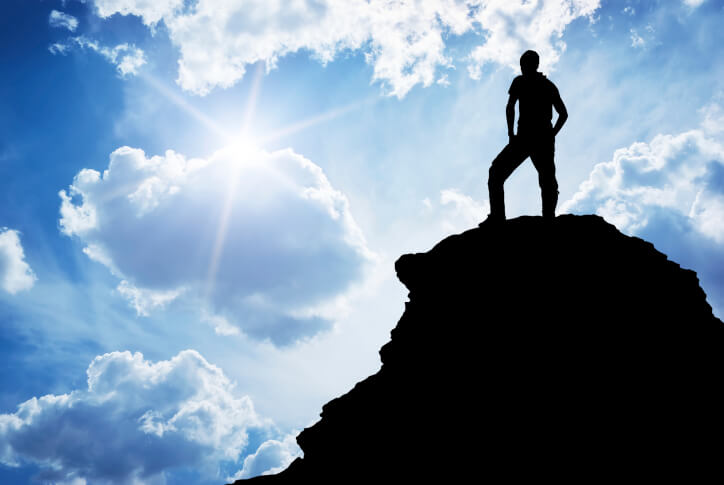 In a world dominated by the idea that a public persona is the reality to who you really are, it can be a difficult task to embrace the truth of your authentic journey. So often, it is more comforting to leave the painful memories behind and take solace in a new life created by only happy times. But as tempting as this is, I would encourage you to shift your perspective and stand on your story – the happy and painful moments – for the greater good.
The one thing I have observed as the Self Relationship Expert™ and Business Coach to women is this: those who are ready to accept themselves in totality tend to reach their goals and dreams on a bigger scale than those who do not. This occurs through the acceptance process. When accepting yourself, there comes a revelation that something bigger than the person reflected in the mirror. While you may feel that sharing your story puts you in a place of vulnerability, I encourage you to take a leap of faith. Those who embrace your story are being open to you and your story will give them value and true power. By sharing your story, you have the ability to live out loud, which makes a positive impact and helps others heal.
So, think of it from this point of view: the very thing you are running from is your secret weapon. This is the key to unlocking your destiny. Once you realize that EVERY experience and EVERY struggle has been designed to lend a helping hand to elevate you, your perception of what has built you will change. The time is NOW to come from behind your scripted barrier, take refuge and stand on your story – your truth – that will change the world.
To tap into your real power and stand on your story for the greater good, you must be willing to do the following:
1. Surrender
Allow yourself to be in a place of vulnerability. Pull back all the layers of defense that have accumulated over the years. As scary as it may seem to be vulnerable, it is scarier to spend another day out of touch with your true self. Think about it this way: Why create a life that isn't yours when you have received years of training for the life you have?
2. Track how resilient you have been
So often, the fear of facing your story is due to the fact that you can't handle the emotional replay. Painful experiences have many people trapped in a world of "I won't make it." This is not your truth. Let me drop this little informational bomb on you: the fact that you are still reading this blog post is proof that you have the ability to beat those painful experiences. That is a sign of resilience. And in anyone's book, that is a win. So, stop discounting your strength and start recognizing you are powerful and trained to withstand any obstacle.
3. Own your story's purpose
One thing that gets us lost in our world is thinking everything is about us. Although you are living out your story, who told you it was yours to keep? As you surrender, you will soon discover the importance of being vulnerable.  Sharing your story frees up space for the next level of blessings. All the years of holding on to pain and hiding your story has left little to no room for elevation. Unknowingly, you have stopped your future "goodies" from flowing to you. One of my favorite sayings goes: "If you hold onto your money with a closed fist, that same fist is already closed when it's time to receive money." Be ready to receive abundance. The purpose of your story is to hold onto it long enough to learn from it. The next step is to share it and bless others, which then prepares you to be elevated.
4. Release judgment and shame
This step is pivotal in being able to move forward. It doesn't do you any good to share your story if you are still clinging to any judgement or shame. That is comparable to deleting a file from a computer without periodically cleaning the cache. Even though the file is gone, the residuals are still there taking up space. The result is thinking you are emotionally open when really you are still clogged. Clear your space. Anything that has taken place in your past that has had power over you needs to be addressed immediately. Only then can you move forward and be ready to own – and share – your story. How do you do this? Ask yourself these shame-debunking questions:
What did I learn from this experience?

Has it helped me to avoid any current repeats?

Have I shown myself compassion?

Would I respond this harshly if a friend did the same thing?
5. Yearn to walk in your power
Once you have surrendered, acknowledged your resilience, owned your story and addressed judgement, yearn to walk in your power. Really surround your mind around this concept. You house incredible talents! Think of yourself as a master musician. Your story is a chart-topping celebration of who you once were and the world is waiting for its release date! Once you have released your masterpiece, many will be healed by your trials, inspired by your survival and motivated by your triumphs. Your story will serve as a voice for those who have remained silent in their suffering as you once did and will spark others to stand on their story as you do now. Soon, your growth will become less scary and more gratifying. Your purpose and greatness will become clearer, and one day you can say, "I am grateful for all that I have been through because without these experiences, I would not be who I am."
So, make the choice to stop hiding from your story. Step out and see it as a beautiful gift that was written for your elevation. Embrace that gift and share it with others. In the end, your story will become your foundation, positioning you to stand on it for the greater good.
Across every platform. On every issue. Make Javelina part of your team.
Ready to bring your brand experience to life? Let's chat!