Error: Access Token is not valid or has expired. Feed will not update.
This error message is only visible to WordPress admins
There's an issue with the Instagram Access Token that you are using. Please obtain a new Access Token on the plugin's Settings page.
If you continue to have an issue with your Access Token then please see this FAQ for more information.
Political Podcast Review: "I'd rather be the stick than the piñata."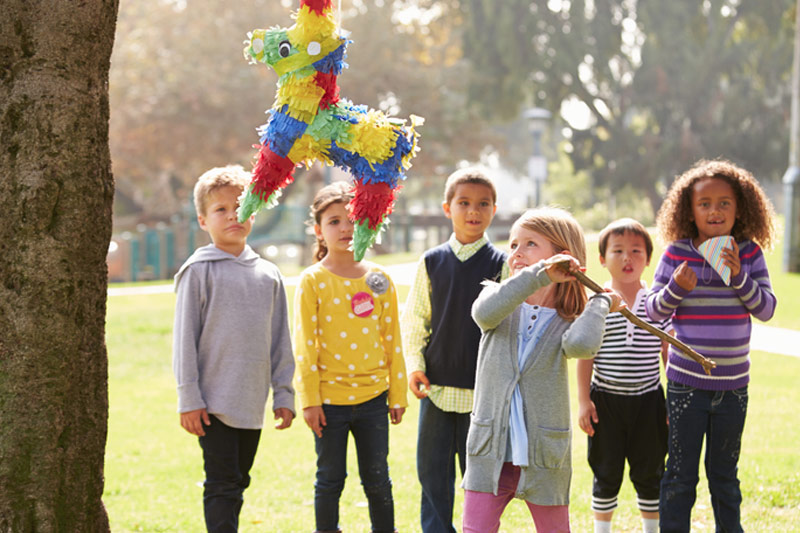 3 interview based podcast episodes that shine a light on today's top political voices.
What is the purpose of an interview? Does a good interview unveil the best version of someone, or does it seek to expose their weak spots and contradictions? Do you want to listen to someone share childhood tales or get raked over hot coals by their interviewer? Maybe your answer depends on who is being interviewed.
The three interview-based political podcast episodes on the other end of our headphones this week offered up a nice continuum, with The Axe Files sitting firmly on the softball end of the scale. Host David Axelrod follows his same getting-to-know-you-over-a-beer formula in his interview with Face the Nation host John Dickerson.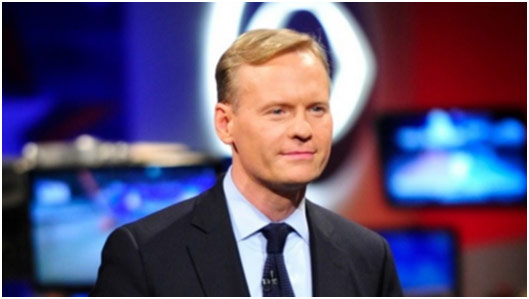 Axelrod's questions lead the listener through Dickerson's life story, from growing up with a famous mother to his entry into print journalism and leap into TV. Then they transition to an analysis of politics, from the Presidential campaigns of yesteryear to a comparison of interviewing Clinton and Trump in the episode's final eight minutes.
The conversation tasted strongly of nostalgia. From Dickerson's fond memories of his parents' dinner parties with the famous figures of the time ("I met all kinds of interesting people…their names are in the history books but they were just friends as well."), to host and interviewee's mutual lamenting over the sheer speed of today's news culture ("We've lost perspective, we move too fast."), there is a strong sense that things used to be better. I always assume that those that came before us bemoaned the same about those that came before them, and so can find the nostalgic sentiment misplaced and misleading.
However, nostalgia does bring one big upside that plays out in this interview: comparisons over time. Dickerson makes the interesting comparison of the racist rhetoric of George Wallace's 1968 Presidential campaign as an independent candidate to Trump today, noting that some Republicans are speaking out against Trump in a way that no one spoke out against Wallace. He puts it down to either a change in moral focus or a change in the demographic makeup country, meaning you're simply offending more people — or more voters — now than you were then.
This is an undeniably interesting conversation, but if you're looking for rigorous questioning, don't stop here. One thing I wish Axelrod would do is give his guests more space to talk. He often interrupts, speaks over guests and if they pause to think of an answer to a question, Axelrod fills the air with more words. I found myself sssshhhing him on more than one occasion. But if you want to feel like you're a fly on the wall of the corner booth at the bar, this is the interview for you.
Next up the river is Glenn Thrush's Off Message, and this week he interviews Bernie Sanders' campaign manager Jeff Weaver.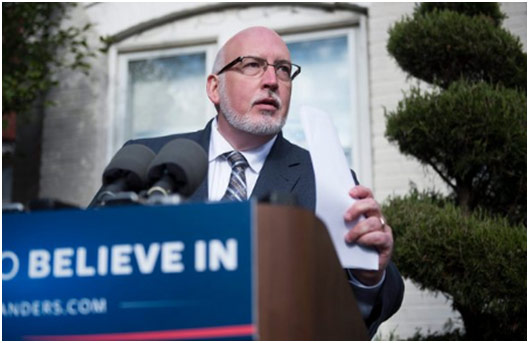 As Thrush mentions in his intro, Weaver is like Sanders' alter-ego. His voice is softer but certainly similar to Sanders', and I found myself imagining Bernie's face over Weaver's answers on more than one occasion.
Thrush starts off with questions about Weaver's childhood — what did your parents do, where did you go to school, how did you first meet Bernie, etc. etc. and then moves into the current issues of the day — DNC emails, Clinton's VP pick and how Bernie has shaped the party platform.
Thrush's interview style hovers somewhere in the middle of friendly chat and investigative reporting. The questions may not be that tough in themselves, but he will call out his interviewee or push for more information when he wants it — although as far as guests go, Weaver doesn't play along as much as many.
There's interesting stuff in here, but Weaver is cagey and doesn't give much away, and while Thrush pushed on him some to reveal more, I would have liked a harder shove. When discussing Sanders' and Clinton's meeting to discuss policy, for example, Weaver admits some issues were non-starters, and Thrush concedes immediately when Weaver refuses to say what those were.
Thrush's trademark (in my opinion) is to ask several "last questions". He promises every guest that this is his last question several times over. It's a habit I find exemplary of Thrush's genuine fascination with his guests, but Weaver doesn't give in as much as I wanted him to. His answers are short and void of the anecdotes that you know he must have buckets of.
He talks of Bernie's reluctance to be at the center of a show — driven by moving issues forward rather than by personal ego — and perhaps this is personality trait the two men share. Unfortunately, it makes for a stilted interview.
And then in a refreshing departure from the tell-me-about-your-childhood style that dominates the majority of political podcast interviews that my ears have found, comes Politically Re-Active with W. Kamau Bell and Hari Kondabolu.
Two comedians doing political analysis, Bell and Kondabolu dish up something different in conversations that study serious topics with a light tone. This week they interview political advocate and CNN contributor Van Jones, who you may know best from taking on self-proclaimed Trump supporter Jeff Lord in the post-convention speech analysis on CNN.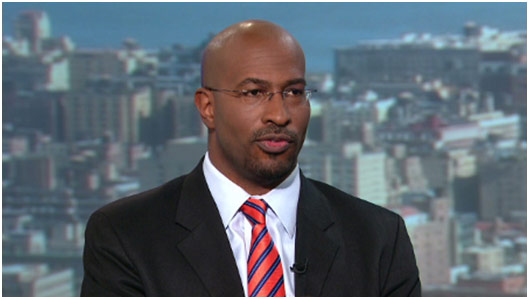 The conversation ranged from the Black Lives Matter movement to how to deal with Trump supporters, but Jones' PR prowess leapt out of the speakers throughout. From an explanation that the persona he adopts in his various public appearances is dictated by the audience he's addressing, to discussing changing his name from "Anthony" to "Van" as a teenager because it provided a better journalist by-line, Jones' awareness of marketing and branding is palpable.
Jones also gave my favorite quote of this week's podcast offerings when in answer to the questions of whether he'd consider a run for office he said "I'd rather be the stick than the piñata." His explanation is fascinating; check it out at around 36 minutes.
When Bell and Kondabolu are being their naturally funny selves, the episode is amusing. The pre-recorded, scripted inserts throughout are not funny and merely get in the way.
The episode closes with Bell and Kondabolu sharing what they learned, which is an opportunity to highlight the funniest parts of the episode, but also serves as a list of criticisms of the guest by the hosts. This underlines the feeling evoked throughout the entire interview that Bell and Kondabolu are assessing their guest rather than befriending him.
It's not lost on me that I was listening to only male voices this week, which is both a reflection of the dominance of men in political podcasts but also a symptom of the sample I pulled. Look out for more women in future reviews.
But whether you want an interview that is conversational or interrogational, the listening platform of your choosing has it all.
What were you listening to this week?
Catherine Alonzo is the CEO and founding partner of Javelina, a company that brings brand experience to life for non-profits, businesses, campaigns and individuals. Having played a pivotal role in growing Javelina into a leading branding and marketing firm, Catherine specializes in effective messaging, brand development and business strategic planning.
Across every platform. On every issue. Make Javelina part of your team.
Ready to bring your brand experience to life? Let's chat!