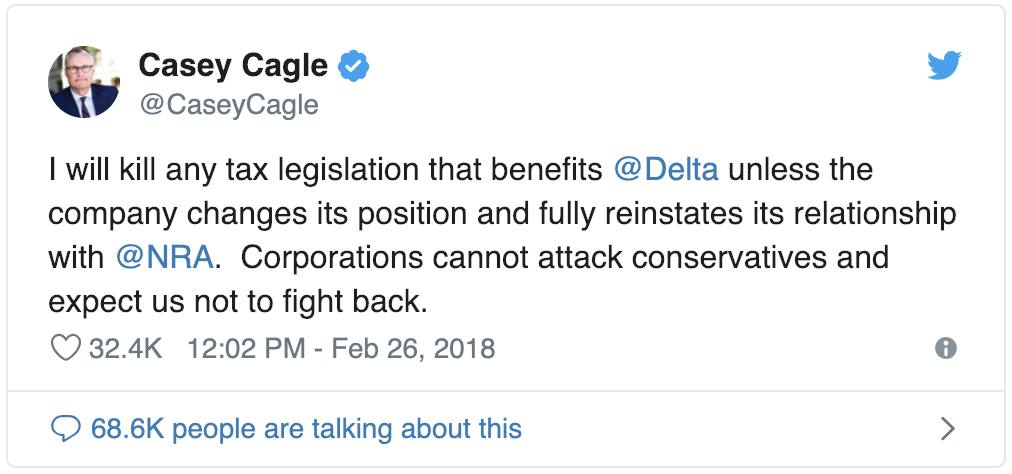 Everything is political. You can't run from it and you can't hide. You shouldn't want to though, because it's not something to be feared, but embraced. People like to say they're neutral or aren't very into politics, but it's political institutions that determine who has clean drinking water, if transgender servicemen and women can continue to operate an Apache Helicopter, and whether the hard-working educators teaching our children earn a livable wage.
Staying aware of what's on the ballot and the actions of your elected officials means your organization can be a force for positive change. More participation in important political moments helps us create impactful change. Here are some real examples of how businesses made a splash by being engaged in the political process:
Cards Against Humanity Doesn't Build Walls
It turns out Cards Against Humanity isn't so against humanity after all. They've got a bone to pick with crummy policies, and they wanted to raise awareness on the causes they care about. During their six-day "Cards Against Humanity Saves America" campaign in 2017, they targeted issues to raise awareness around and fight the power the best way they know how: biting sarcasm and vulgar wit.
Issue 1: Wealth Inequality
Wealth inequality is a big issue to tackle, so they took a stance by taking the money 150,000 customers gave them for the Saves America campaign, and redistributed a total of $100,000 to the poorest 100 customers. They then shared the stories of the people impacted as well as links to organizations that are working toward a solution.
Issue 2: The Wall
Cards Against Humanity just doesn't have the time for divisive walls. They bought a large amount of land along the border and lawyered up to make it as difficult as humanly possible for Trump to build his wall through it. They also built this sweet 30-foot trebuchet, which is totally less ridiculous than the wall.
Issue 3: News
The news is pretty rough these days and there's not much we can do to escape it. However, Cards Against Humanity figured the least they could do was remind people of the good in the world, so the Good News Podcast was born. This wasn't overtly political, but it speaks to the change we can make to alleviate any problem, big or small.
Delta Airlines: Knowing the Heartbeat of Your Company
In an interview with Fortune, CEO of Delta Airlines, Ed Bastian, discusses his experience of ending the NRA's Delta discount after 17 students and staff members were killed in the Parkland shooting. He didn't feel that their rhetoric aligned with the heartbeat of the company and their values. Delta doesn't have much of a record of entering the fray and typically remained neutral and out of sight when it came to social issues. However, enough was enough, and they decided to draw a clear line in the sand.
This was one response: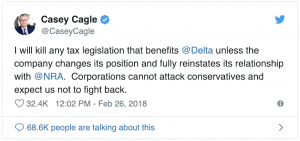 Casey Cagle is the Lt. Governor of Georgia. So the consequences for Delta were very real, but they also understood that the consequences of staying silent are just as damaging to our society.
Delta took it one step further and reviewed its other discounted partnerships. When evaluating them, they asked: "Does this group reflect the values we support or is it directly counter to what we try to do in society?" With that, they ended more partnerships.
Delta's unwavering stance on this issue set an example for the rest of the travel industry and soon other major companies like Hertz and Avis were ending their NRA member discounts, too.

Looking for a Sign
Nearly every business has a sign identifying itself, but that's often not the only sign we see anymore. Businesses increasingly have more signage indicating what they value, even if they don't think it's necessarily political.
You've passed by businesses that display a rainbow flag. It may not seem like much, but it signals a political stance, particularly if you're an organization in a state that is actively seeking to restrict LGBTQ rights. It means you don't stand with discriminatory policies and everyone is welcome. It demonstrates solidarity and a willingness to tell the greater community what you're for and against.
When Red 4 Ed was sweeping Arizona in 2018, it wasn't uncommon to see a bold red sign in business windows indicating that they stood with teachers and their cause. Rather than take the neutral position, they recognized that their businesses are a part of the communities impacted, not separate.
Everyone has a role in changing the world. As businesses, being a part of the discourse on policy and where we want our country to head means we're keeping an eye on the issues, and holding politicians accountable for the decisions they make that affect us. You don't have to redistribute thousands of your own dollars back to your customers to show you get wealth inequality, but no one ever complains when that happens.
Across every platform. On every issue. Make Javelina part of your team.
Ready to bring your brand experience to life? Let's chat!
Javelina Consulting LLC 1026 E Keim Dr
Phoenix AZ 85014