Error: Access Token is not valid or has expired. Feed will not update.
This error message is only visible to WordPress admins
There's an issue with the Instagram Access Token that you are using. Please obtain a new Access Token on the plugin's Settings page.
If you continue to have an issue with your Access Token then please see this FAQ for more information.
The Great Presidential Debate: Winners & Losers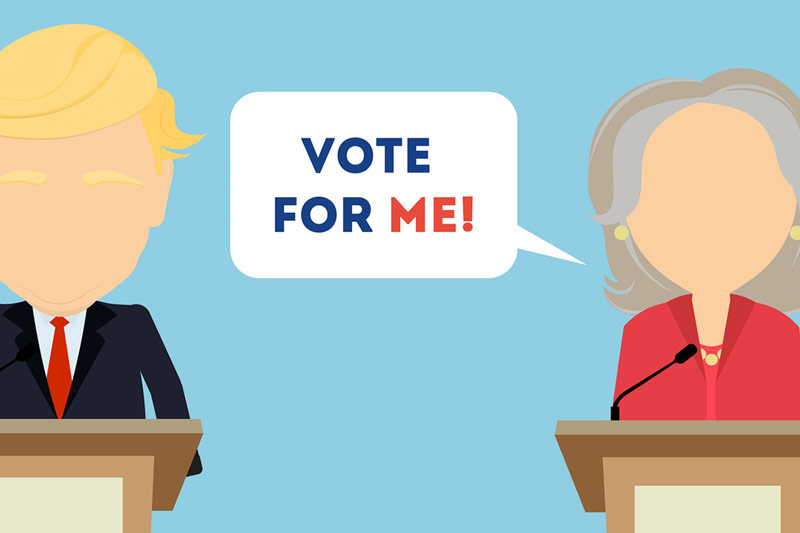 The long-awaited Hillary and Donald face-off finally happened. And it was EPIC. The whole world frenzied, not least the array of political podcast hosts we adore. We couldn't wait to hear their take: Who won? Who lost? Did it live up to the hype? Lucky for you, we listened to them ALL so you can over analyze it from every possible angle.
Winner: Hillary Clinton (cue the shimmy)
Along with the majority of the Twitterverse, every political podcast declared Hillary the winner, though in varying degrees of enthusiasm. Keepin' it 1600's liberal crew were predictably the most gleeful in their live cast directly after the debate.
"Trump fell apart at the end. The guy does not do well late at night. Not a night guy," said co-host Jon Lovett.
Special guest Tim Miller, Republican operative and former Jeb Bush-staffer, while agreeing Hils had a strong showing, pointed out (as did other podcast analyses) that Trump likely didn't lose any of his base supporters. Hillary may have served up a can of whoop ass, but it's unclear how many people abandoned The Donald. FiveThirtyEight Elections pointed this out: the Trump we saw wasn't new or different from the Trump we've known over the past 18 months — so, hard to say that that will move many people.
Loser: Donald Trump (you're fired)
What. A. Wreck. The majority of pods had Trump as the clear loser, evidently ill-prepared, and in many places jaw-droppingly BAD. They all gave him good moments, though. Slate's Political Gabfest's Emily Bazelon: "Trump was very effective at the beginning…He has this pretty effective line about 'Well, you've been in public office for 30 years — why do we still have all these problems?' " But wow, did that fall apart! As NPR Politics Podcast noted:
"It all started to deteriorate when (Hillary Clinton) started to get under his skin…you could see it happen."
Trump proved once again that he is so easy to irritate. Not, as Hillary says, a desirable attribute in the guy with the nuclear codes.
Winner: Lester Holt
Lester had a very difficult job and the podcasts either gave him winning marks or barely any mention at all. The definition of a successful moderator is one who is not a part of the story. So, Lester comes out shining, which is no easy task in this year's political theatre.
Loser: Water
Trump was torn apart by the media at large, including many podcasts, for his persistent hacking and water drinking. (Need a cough drop, Donald?) Apparently, glugging down H2O is now evidence of weakness. Remember being told to drink 8 glasses a day? Not if you want to lead the free world! Get ready to live thirsty! Expect sales of bottled water to plummet amongst students running for class president everywhere! It all seems a bit ridiculous, though we don't feel sorry for Trump — if either candidate has to tolerate laughable speculation about their physical integrity, then let's keep it equal.
Winner: Podcasts
Political podcasts ruled the day. The coverage was in-depth, on time and varied. Each pod gave their immediate analysis, with another look a few days later analyzing what impact this will have on the race leading up to the second presidential debate October 9th. If you missed the debate and want a detailed recap (with clips) along with analysis, listen to NPR Politics Podcast's September 27th episode. If you're curious about remarkable moments that got less coverage, take a listen to Slate's Political Gabfest. And be sure not to miss video of the Keepin' it 1600 crew taking Donald's advice and giving Sean Hannity a call.
Loser: Words
In Trump's complete unravelling in the last 20 minutes of the debate, his presentation was defined by incoherent… babbling. Lots of words and not a lot of meaning. NPR Politics Podcast entitled it "word soup". A favorite moment of mine was his invention of the word bragadocius, which I have no idea how to spell, let alone define. I was half expecting this new term to take google by storm, winning its way into the Oxford English Dictionary in no time. No such luck — not a single mention in the podcasts. Just goes to show how many crazy moments there were to dig into. Sorry, bragadocius, you die to never see another day.
What's your favorite debate moment? What else would you like to see the podcasts cover? And what should we all expect for the next debate? Let us know!
Catherine Alonzo is the CEO and founding partner of Javelina, a company that brings brand experience to life for non-profits, businesses, campaigns and individuals. Having played a pivotal role in growing Javelina into a leading branding and marketing firm, Catherine specializes in effective messaging, brand development and business strategic planning.
Across every platform. On every issue. Make Javelina part of your team.
Ready to bring your brand experience to life? Let's chat!