That time Cards Against Humanity became Cards For Humanity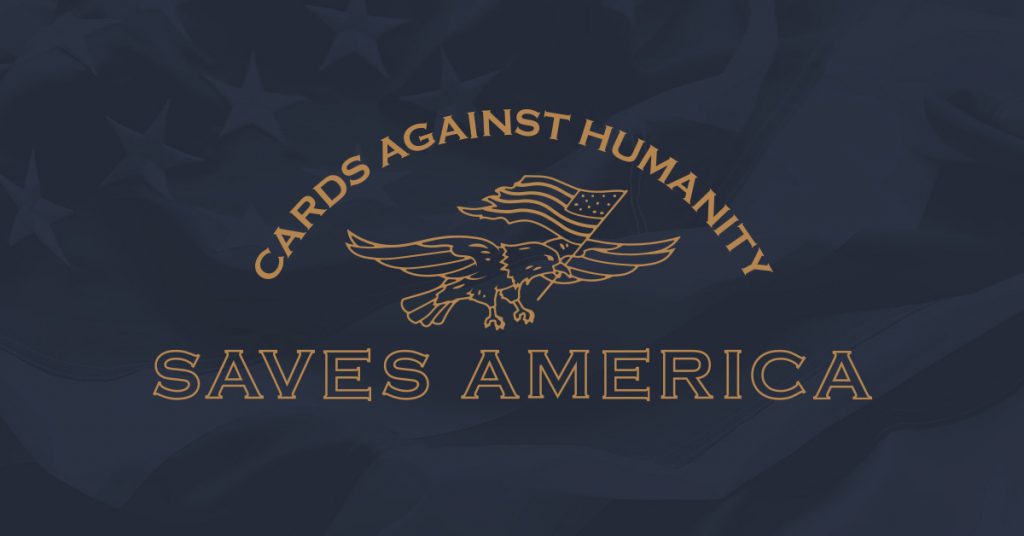 You may have seen a small Chicago company called Cards Against Humanity pop up in the news every now and again. It's a popular, but vulgar, party game and every year they launch marketing campaigns unlike anything anyone else has ever done.
Last November, they encouraged people to send in money and advertised with full transparency that the money would fund the digging of a "holiday hole". Yeah, a hole. And folks forked up their cash. If you remember, and I'm sure you do, November 2016 post-election was a pretty bleak time. What better metaphor to capture what we were all feeling on the inside than a giant, pointless, $100,000 hole?
Well, this year they're back at it again.
Last month, the self-described "party game for horrible people", launched day one of a ten-day marketing campaign. What was their day one mission? Save America.
My fellow Americans,

Two years ago, we told you that we were never doing another complicated holiday stunt again. But after accidentally seeing CNN on a TV at the airport, we realized our country needed us.

It's time to suit up for one last mission. Cards Against Humanity is going to save America.

Here's how it works: You give us $15 right now, and you'll get six America-saving surprises in the mail during the holidays.

Slots are limited, so if you want to stop Trump's border wall and save America, smash that button.

I love you,
Cards Against Humanity

P.S. In previous years, holiday surprises have included a private island, a castle in Ireland, and over two million dollars raised for charity. This year we're pulling out all the stops. Folks, we may not make it back from this one.
The company bought a plot of land along the U.S. and Mexican border, retained a law firm specializing in eminent domain, and promised to "make it as time-consuming and expensive as possible for the wall to get built."
Within just nine hours 150,000 people signed up. They sold out their promotion in a day.
On Day Two, they launched The Good News Podcast where you guessed it – it's just a daily-dose of happy times. So I'm just going to leave that link there for you all.
This week, they released Day Three: Cards Against Humanity Redistributes Your Wealth.
Every idea has to start somewhere. Our lawyers advised against our first choice—a campaign to eat all the rich people and live in their houses—so we settled for something more achievable. Last month, 150,000 people signed up for Cards Against Humanity Saves America. Today, we're redistributing their money.
Through a survey to their subscribers, Cards Against Humanity took an educated guess at who their poorest respondents were and 100 people received $1,000 checks. They could have kept the money or run another promotion focused on making more money, but instead they highlighted wealth inequality and let people know what action they could take to help.
The most important thing you can do is support candidates who are working to fight inequality and are not turds. In the meantime, here are some organizations that are working to fix the problem from the ground up:

MoveOn.org
AmericansForTaxFairness.org
StudentDebtCrisis.org
Maybe they should change their name to Cards For Humanity, because it seems like they're really trying to do a little good in the world.
We have yet to see what days four through ten hold for us, but there's a lesson to be learned about the overwhelmingly positive response Cards Against Humanity has received. Their stunts are authentic in their intent – sure, it's crass and intended to offend some – but this is what they believe in.
They've definitely also received negative responses as well. Some of their customers weren't too happy. Cards Against Humanity's response? Well, they don't care. This is what they stand for.
While their stunts aren't going to prevent a wall or solve wealth inequality, they're raising awareness on issues that matter to them and people took notice. People enjoy feeling like they've bought into something of meaning – even if it's just a party game. There's a real shift happening in consumer preferences when it comes to social responsibility. Companies can't just stick their heads in the sand for much longer.
Cards Against Humanity's approach certainly isn't for everyone. But it's worth thinking about how people perceive your company or organization. Do you stand for something? Are you helping make the world a better place? Do you people know you are?
If a company called Cards Against Humanity can bring people together for a good cause, then anyone can.
Across every platform. On every issue. Make Javelina part of your team.
Ready to bring your brand experience to life? Let's chat!