Error: Access Token is not valid or has expired. Feed will not update.
This error message is only visible to WordPress admins
There's an issue with the Instagram Access Token that you are using. Please obtain a new Access Token on the plugin's Settings page.
If you continue to have an issue with your Access Token then please see this FAQ for more information.
How I Applied My Work to My Dating Profile…and Found True Love
Hey! So, for the record, I'm biased. I've found true love on Tinder.
My road to Tinder love started with a few old Facebook pictures and a blank written profile. I could never bring myself to add a list of things I like or pick out a series of emojis that adequately summed me up. (Ugh, it's so contrived and tedious!) Last fall, I chatted with a few people on Tinder, and then Trump happened. (Double Ugh, AHHHHHH, and ::sobs::) Since the world was overwhelming enough, why mess around with Tinder? Half of those guys voted for Trump anyway. So I deleted Tinder, November 16th (ish.)
Then at our staff holiday celebration on December 4th, I enjoyed delicious food and wine, so naturally the subject of love and Tinder entered into the conversation. Influenced by my second glass of Cabernet, I re-downloaded Tinder and – assisted by my enthusiastic coworkers – set about a profile makeover.
At Javelina, we bring our clients' stories to life so that they can meet any goal – and change the world in the process. I became my own client.
My goal: to meet guys who didn't take themselves too seriously. I wanted them to be doers over talkers, especially doing anything outdoors.
The approach: a one-sentence profile.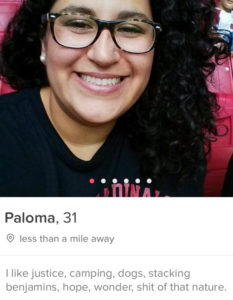 After my one-sentence makeover, the new matches I made weren't very different from what I experienced before. But, for the one that matters, it made all the difference. Let me start at the beginning.
First, a mandatory new podcast for you – DTR. Download it. NOW.
***PAUSING***
Ok, great to have you back!
DTR, a podcast from Tinder with Gimlet Creative, was an integral part of my dating app renaissance. It's a podcast that "explores the good and bad, the hilarious and awkward, the wonderful and bizarre aspects of defining relationships in today's world." A good friend told me to listen to it since I was actively Tindering post-profile makeover. I'm so glad I did.
The fabulous host of DTR, Jane Marie, opens the discussion about Tinder by posing the question: How do you feel about the single word "Hey!" as an opening line? According to DTR, there is quite the divide of opinion on opening with "Hey". In English speaking countries, half a billion messages are sent every month. Where do you fall? Do you love a good friendly "Hey!" opening message, or do you think it's obnoxious or lazy? I'm pro-hey. The odds are on my side too, 1 in 5 of those half a billion messages start with "Hey" So, don't listen to the "Hey" nay sayers. Perhaps not a coincidence, my love started with "hey." Well, two heys.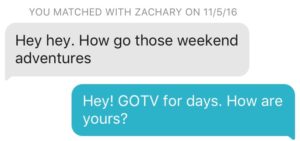 Remember when I deleted Tinder after Trump won the election, November 16th (ish)? I deleted the app right in the middle of a conversation to set up a first date. We had had a pleasant conversation, he didn't text constantly (praying hand emoji) and invited me on bike ride for my ideal – outdoor – first date. Thanks, Obama.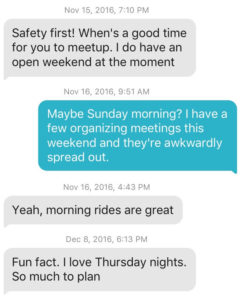 For all those who have dated, especially online, you know ghosting is a natural phenomenon. I don't know statistically how common the practice of disappearing and never responding to someone is but I've been on both ends of the practice. After my Tinder makeover on December 4th – my crafty, clever, nothing special, but totally me one-sentence profile re-caught his eye. Then on December 8th, he braved another message after a ghost encounter.
He later shared with me that my phrase "social justice" made me stick out, he had to follow up. (Though in approving of this blog, he says he doesn't remember exactly when he read my profile again… #boys).
How we tell our stories matters. Though hiring Javelina to update your Tinder profile is a little out of our scope, my co-worker (who helped with my Tinder makeover) and I are here to help! Send us an email and we'll take care of you. (We're branching out on a side endeavor to set up your Tinder profile for success! And accept donuts and margaritas as payment.)
If that seems like a stretch, we recommend having someone you trust and who knows you well look over your profile or help you set it up.
Here are the steps for creating a winning Tinder profile:
Ask your friend if the profile sounds like you – the real complicated, fun, messy you.




What intriguing fact (yes you ARE intriguing) can you share on your profile? For inspiration,

read Catherine's self-promotion blog

.




Be sure to include something that invites people in for a conversation.



Have photos that show off your great smile and share some insight into the things you enjoy. Listen to DTR's 3rd episode, Mixed Signals for more tips.


If any of you are experiencing harassment on social media,

Lenny put together a guide

to support you.

And if you are still asking, "Is Tinder real, isn't it just about hooking up?" then, think about the half a billion messages (just in English!) sent every month. There has to be something real in half a billion messages. There was for me. For further convincing about the beauty that can be Tinder, please listen to DTR's 5th episode, Unexpected Places. Your heart will be very happy.
We convinced you and you started a Tinder profile – now what?
Take a moment to really think about why you're on Tinder, Grinder, Bumble, Ok Cupid, etc. Ask yourself these questions:
What is it you are looking for? Being honest about how serious – or not serious – you are is essential to getting what you want. Defining your goal will help you meet the kind of people you want to interact with.




What do you want to say? After some left and right swipes, you'll have a number of folks to chat with. Knowing what you want and what you want to know will impact what you say.




What do you want to do? Talk more or go on your first date? Do you set up a bike ride, grab a drink, or check out local art? That action is yours to take. Then, reflect on your dating life (oh joy!), gush about your cute new crush(es) or share Tinder disasters with friends.
Whatever your reason for swiping right, have fun, don't overthink your profile, and be authentic!
Life has taught me that being vulnerable is brave and that you can't be what you can't see. So all the time, sometimes, whenever you can, put yourself out there. Same goes for Tinder. You never know who you'll meet!
Paloma Ibañez is a Director of Client Services at Javelina. Her goal in life is to see new places, be uncomfortable, grow, and be wise enough to walk away. Read more posts by Paloma.
Across every platform. On every issue. Make Javelina part of your team.
Ready to bring your brand experience to life? Let's chat!